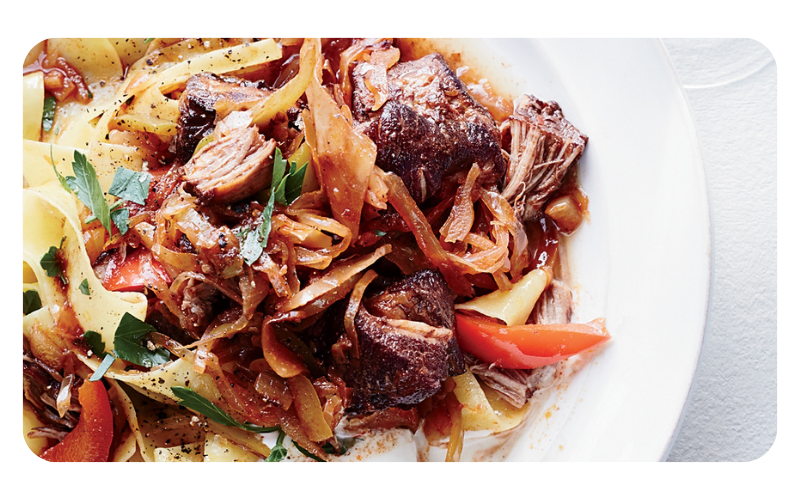 6 garlic cloves, thinly sliced

4 red bell peppers, chopped

2 medium yellow onions, chopped

Kosher salt

2 pounds trimmed pork shoulder, cut into 1 1/2-inch cubes

2 tablespoons canola oil

2 tablespoons tomato paste

1/2 cup Hungarian sweet paprika

2 teaspoons Hungarian hot paprika

1 pound sauerkraut, drained

One 750-ml bottle red wine

1 quart low-sodium beef broth

4 cups water

1 teaspoon dried marjoram

2 bay leaves

2 Hungarian wax, banana or Cubanelle peppers, thinly sliced

1 teaspoon black pepper

Cooked egg noodles, for serving

Crème fraîche, for serving
In a food processor, puree half of the garlic, bell peppers and onions with 1 tablespoon of salt until smooth.
Pour the mixture into a large bowl, add the pork and stir to coat. Cover with your Teeo Silicone Lid and marinate overnight in the refrigerator.
Drain the pork, wipe off any marinade and pat dry with paper towels. In a large Dutch oven, heat the canola oil.
Working in batches, add the pork to the pot and brown over moderate heat, turning once, about 4 minutes per batch.
Transfer the browned pork to a plate. Add the tomato paste to the pot and cook, stirring, until lightly caramelized, about 2 minutes.
Add both of the paprikas and cook, stirring constantly, for 1 minute. Return the pork to the pot and add the sauerkraut, wine, broth, water, marjoram and bay leaves. Bring to a boil.
Reduce the heat and simmer, uncovered, until the pork is nearly tender, about 1 1/2 hours.
Stir in the remaining garlic, bell peppers and onions. Add the Hungarian wax peppers and cook until the pork and vegetables are tender, about 30 minutes longer.
Discard the bay leaves. Stir in the black pepper and season with salt. Serve in bowls over egg noodles with a dollop of crème fraîche.